Make the information you have complete, improve the quality of your data and close more deals
Comprehensive customer profiles
Enrich the domain information you have. Oftentimes you have some customers or even competitors on your mind, but all you know is their domain name. No worries, Global Database has got you covered! With Data Enrichment, all you need is to enter the domain name, and you'll get the company's full profile at hand.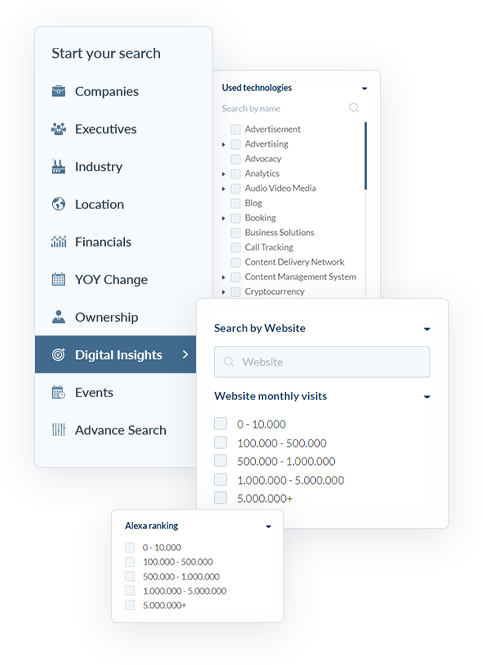 Updated email lists
Enrich your email database with the most up-to-date entries, which are retrieved daily and validated monthly. Our clients get some of the highest email deliverability rates, comprised between 85%-95%, something our competitors cannot brag about.vvvv
CRM Integration
Export the gathered data easily or integrate it smoothly in your own CRM. No matter what kind of data you are looking for, as soon as you have the list of prospects most valuable to you, you can export it for an unlimited number of times as an Excel file, or integrate it directly with your preferred CRM.
Efficient automation
Make the API work for you. When you have to fill in loads of mile-long forms, Global Database data enrichment form autopopulation will become your lifesaver. All you need is to write in the email address and we'll fill in all the known data for you. Filling forms will become a matter of seconds.
Smart alerts
Receive notifications as soon as any of the companies of your interest goes through some changes. You don't need to permanently keep an eye on your targeted or preferred companies or those competitors. Global Database will inform you via email and display the list of changes most relevant to you in your Global Database account.
Would you like to learn more about Data Enrichment with Global Database?
Watch a 3-min video to see all the value it can bring to your business